The Cycle of Success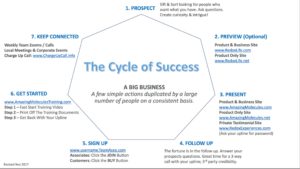 Are you struggling with how you duplicate and train your team? Alan Noble has created great resources that are easy to use and share with your team. All of the tools can be found at his site: www.amazingmoleculestraining.com
This Cycle of Success is a great tool to helping you stay focused on how to build a big ASEA business.
When prospecting use one of the following online videos to easily help you share the message of ASEA.
www.redoxlife.com a 4 minute ASEA product and business overview
www.redoxlife.net a 3 minute ASEA product only overview.