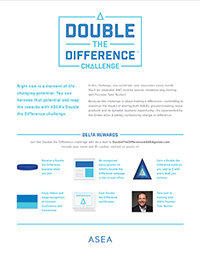 Right now is a moment of life-changing potential. You can harness that potential and reap the rewards with ASEA's Double the Difference challenge.
In this challenge, you enroll two new associates every month. You'll be rewarded AND receive special, invitation-only training with Founder Tyler Norton!
Because this challenge is about making a difference—committing to maximize the impact of sharing both ASEA's ground-breaking redox products and its dynamic business opportunity—it's represented by the Greek letter ∆ (delta), symbolizing change or difference.
Download the PDF for more information
Listen to Tyler Norton at the Asea Convention 2016 describe Double the Difference